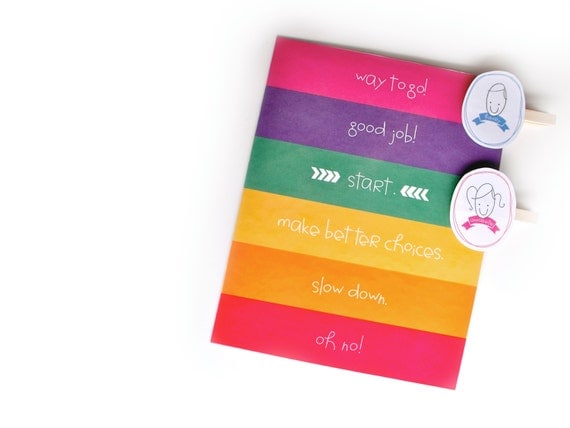 Halfway through the Feisty Fours, I was on a mission to curb some tantrums and all sorts of crazy behaviors that needed to be nipped in the bud! I combed Pinterest for ideas and saw a bunch of various Behavior Clip Charts that people made. I went on Google images and found lots of ideas both parents and classrooms used. There are lots of ways to create your own with just scrapbook paper and printing the wording on your own. Definitely an easy DIY!
However, I was strapped for time and a little lazy to be honest…. so I took it to Etsy and found this super cute Behavior Clip Chart with personalized clips for my two kiddos.
So we implemented this… and to be honest, it lasted well for a few weeks before it failed me. Mostly because we weren't really diligent in enforcing it I think. But I don't know…. I also think that it just wasn't that serious in my daughter's eyes. Perhaps moving up and down the chart didn't yield enough reward nor consequence? It might work for some people… and I know they use similar in classrooms… but for us… it didn't. It's definitely still stuck on our fridge and perhaps I may find use for this method again at a different age.